Being on the fertility journey is hard. Then you find out you have to follow a fertility diet that makes you give up most of your favorite foods such as coffee, wine, gluten and dairy!  As if you are not stressed enough with daily life, the Pandemic and pregnancy woes now you are asked to give up some of your favorite foods. But don't worry, I have some solutions for you.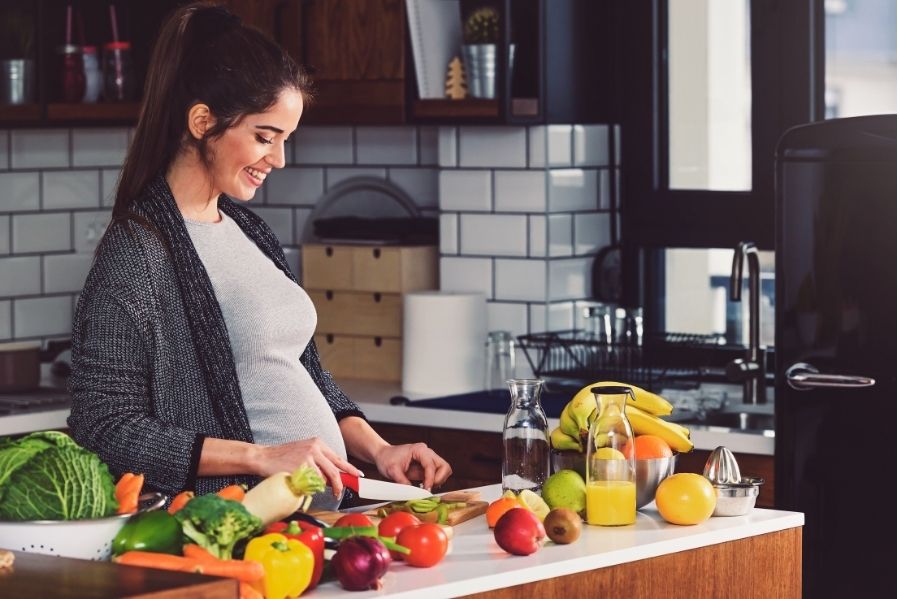 Written by Guest Blogger:  Caitlin Townsend of Nourish by Catlin, Functional Nutritional Therapy Practitioner as well as a Chef trained at The Culinary Institute of America.
As a Functional Nutritional Therapist and trained Chef who has been on the fertility journey myself and hates to give up pleasurable foods,
I have developed some tasty alternatives for your fertility diet.
1. Let's begin with our morning routine. 
When you first wake up you normally want a nice hot cup of coffee. As an alternative, try switching it out with a similar tasting brew that has all the roasted goodness of coffee but is much better for your liver. Some of my favorite coffee alternatives include; Dandyblend, which is an instant brew made from roasted dandelion, Rasa, Teeccino and Four Sigmatic which offers herbs blended with mushrooms. I know these sound a bit strange at first, but give it a try see what you think.
2. You can also craft your own herbal 'coffee' drink with herbs such as roasted chicory, dandelion, burdock and licorice.
This blend of herbs gives you the bitter taste as well as a nutty finish and is excellent for detoxing and reducing inflammation. A simple and pleasurable quick drink is to take your Dandyblend and whip it into a frothy latte with some ghee and coconut butter. Add in a pinch of cinnamon and this drink will rival any old cup of morning joe!
3. When the evening rolls around and you just want to relax with a nice glass of wine, instead reach for the sparkling water topped off with a flavored sipping vinegar.
I know, I know, it's not exactly the same. But once you get used to this refreshingly  tart drink that doesn't leave you foggy the next morning you will want to have more. The benefits of sipping vinegars abound. Vinegar is great for the digestive system, decreases bloat and is perfect as a before or after dinner drink. If you enjoy the bubbles you can switch it up for a flavored kombucha, poured into a fancy wine glass and sipped on while you relax in a well deserved bath.
4. Switching out gluten
is a bit more tricky because you really should read all of the ingredients on any packaged gluten free food as they can be filled with a lot of sugar, soy and cheap oils like canola that cause inflammation. A great gluten free alternative are Mary's Gone Crackers. If you love a crunchy snack, try the different varieties  dipped in hummus or guacamole. They are the perfect gluten free snack.
5. Dairy can be easier to switch out.
Try making your own nut milks, which are much cheaper and whip up in a flash with a blender. The store bought ones often have preservatives and stabilizers in them, so you do need to read the ingredients or try making your own.  The recipe is quite easy, just by taking a handful of soaked nuts and blending them with fresh water and a pinch of salt you have your nut milk all ready to add into smoothies, or splashed into your tea. Cashew milk does not even need to be strained and is rich and creamy. The other nut milks do need to be strained but you can save the pulp do use in muffins or other baked goods. You can even get creative and add in a pinch of cinnamon or a couple of dates to sweeten up your milks. Pour on top of your favorite oatmeal with added apples, nutmeg and pumpkin seeds! There are great yogurt alternatives such as coconut and some people can even handle a sheep or goat milk yogurt versus cow milk which most people are more sensitive to.
Each person is so unique in what food is best for them so instead of lamenting about what you have to give up, let this be an exciting time when you can get back into the kitchen and start to experiment with new creative combinations. The kitchen is a place where you might not have spent much time, so turn on some good tunes and pour a glass of bubbles, (kombucha that is) and let your creative juices flow. Remember to light some candles at the dinner table, take a moment to give thanks for all that you and your partner have and for the food you have created, then enjoy the fruits of your labor!
The best outlook is to find tasty alternatives  to your favorite foods while still following your fertility diet protocol. This way you are not giving up anything, just simply replacing them with a better alternative for your body and your baby!
Guest blogger,
Caitlin Townsend
Caitlin Townsend is the founder of @nourishbycaitlin. She uses a food as medicine and whole living lifestyle approach to get to the root cause and create optimal health for the busy woman. Caitlin is a Functional Nutritional Therapy Practitioner as well as a Chef trained at The Culinary Institute of America. Through her own fertility journey she has been able to utilize her passion for food and knowledge of functional health to help other women on their journey.
Grab her FREE Adaptagenic Herbal Coffee Recipe for those who have to cut down on or give up coffee during their fertility journey.