What is Clubhouse? Clubhouse is
 invite-only, live audio social app which is
described in its website as a new type of voice-only social platform where users can
launch or drop in on "Rooms" with friends, followers, or the general public to
have real-time conversations instead of communicating via typed messages through.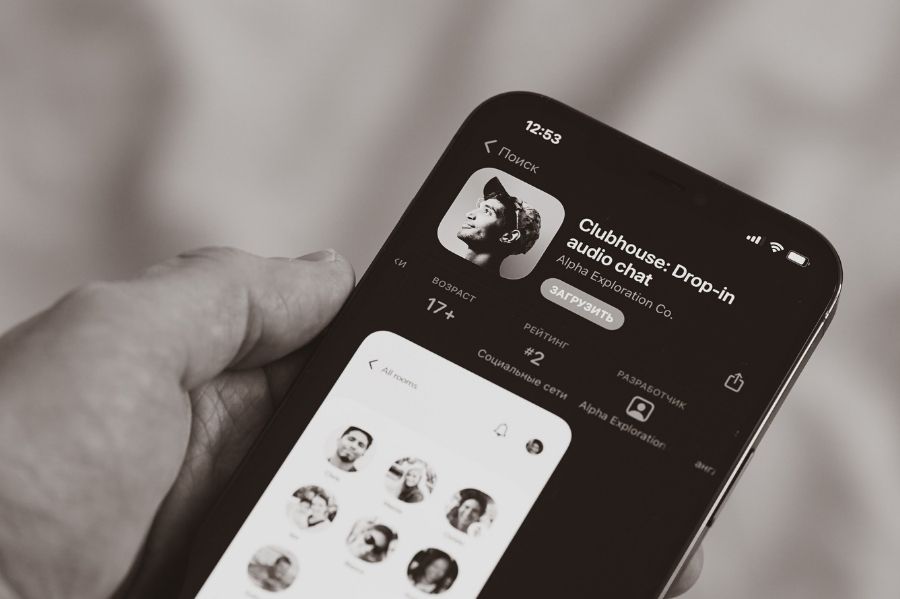 Clubhouse rooms are more like conference calls set on a virtual stage, with people grouped as moderators/speakers and listeners.
Clubhouse was launched by Paul Davison and Rohan Seth in March 2020. Paul Davison previously worked at companies including Pinterest and Google while Rohan Seth is a former Google engineer. 
How to Join Clubhouse App
Currently, Clubhouse is only available for iPhone users and its rooms can't be accessed via Android based devices or the Web. It's also an invite-only platform where only an existing user can give access to their iOS contact list through an invite.
Set Up Your Clubhouse App Profile
Clubhouse, like other social media apps, gives you a profile that will tell others a little more about you, what you do and what you have to offer. You can also upload a profile photo.
How Clubhouse Works
Clubhouse's Main Tabs –
When you enter Clubhouse, you will find the clubhouse hallway or the homepage that highlights ongoing Rooms related to your interests or people you follow.
In the main menu tab there is a search/explore icon along with inbox, calendar, and notification icons where you can:
Search for a member or a club using the name or a keyword.

Send an invite to a contact to join Clubhouse.

View the calendar of upcoming scheduled rooms.

Review your notifications.

View or edit your Clubhouse profile.
Clubhouse Rooms – Entering a Room is like attending a Zoom or Google Meet meeting with no video and you can see only the profile photos and names of current attendees, with moderators and speakers appearing at the top of the screen.  Listeners can join or leave a Room at any time and are muted unless the moderators/speakers invite them to speak on a virtual stage or allow them to speak or ask questions through the "Raise Hand" request. 
All attendees can choose to invite ("ping") people they follow to a room by tapping the "+" button. This will give a notification that they've been invited to a Room and enables them to open the app and join it directly.
Starting a Room – Clubhouse users can also choose to "Start a Room" and set room availability to either a "Closed Room" – open to specific people only, a "Social Room"-  open to all of the people you follow or an "Open Room" – a room open to anyone on Clubhouse.
Clubs and Networking – Clubhouse users can also opt to follow people who are their friends and even influencers, or thought leaders in their industry. Users can also join or create Clubs, which are groups of users based in specific topics, hobbies, or industries. 
Clubhouse is an amazing platform to build relationships – connect with your friends and also meet with new people from anywhere in the world where you can have impromptu conversations on thousands of different topics such as telling your stories, asking relevant questions, engaging in intellectual debates, learning from great speakers who are expert in their field and most importantly to generate client leads!
Here are 4 Tips on How You Can Successfully Grow A Presence In Clubhouse + Generate Client Leads.
1. Optimize your clubhouse profile. Choose your profile photo carefully. Make sure that your profile photo shows your face and is framed well inside the photo. You can also opt to pick a photo with a bright background to make your photo stand out inside the app.
Although Clubhouse gives you plenty of room to write out a lengthy bio. With no character limit/ The first three lines (roughly 125 characters) are available as a preview while in rooms on the app, so you have to make those the most important words in your bio. Your profile needs to be really clear about what you do, who you serve and don't forget to include how they can reach out if they want to work with you!
Add your Twitter and Instagram profile links because they are the only clickable links on your clubhouse profile. You can still post other links in the bio but if you do, make sure they're easy to remember because others won't be able to copy and paste those links from your profile.
You can also list the topics you are interested to discuss to let people know what types of conversations you want to be invited to.
Use keywords to help people find you if they use the search function.
2. Make sure to provide value. Find ways to share your knowledge and value with other clubhouse users in the room. This way you can position yourself as the expert in your field. It's a great way to attract people to jump into the rooms you are hosting and make them want to hear you speak.
3. Host and moderate Clubhouse rooms. Make sure that the title of the rooms you are hosting covers the topic and are of interest to your target market to attract your ideal client avatar.  
You can list the topics you want to host about and schedule a room in advance to let people know what types of conversations you want to be invited to.
4. Networking is everything. You can make some amazing connections which can help you create a referral system for your business. You can do this by positioning yourself as the go to person in your chosen niche.
There's only one catch though… You need to actually spend time to participate in audio chats because that is the only way the clubhouse app functions. So make sure to spend it wisely. 
Follow me on Clubhouse @coachkela.
Love and Health,
Coach Kela
P.S. My team and I are giving away 4 clubhouse invites. Text "Clubhouse"  to 615-257-8855 to get the chance to win a clubhouse invite.
P.P.S. Don't forget to tune in to this week's episode of The Hormone P.U.Z.Z.L.E Podcast: 6 Steps to Build a Profitable Coaching Practice: Puzzle Blueprint – Fertility Coaching With Coach Kel‪a. You can also find my podcast in iTunes, Spotify, and Stitcher. Don't forget to subscribe, follow, and write us a review (if you LOVE it).
Get the 6 Steps Business Building Puzzle Blueprint for FREE if you text "Fertility Coach"  to 615-257-8855. Six steps that I think everybody should take when they're starting to build their business or if they're thinking about going into Coaching so you can build the profitable coaching practice that you so desire.
Become a Certified Hormone P.U.Z.Z.L.E Method Fertility & Hormones Coach.  Click HERE for more info.