By now, you've heard of the phenomenal results people are getting with their health and weight loss on the
Keto-Green
eating plan. This is not a diet at all. Instead, it's a healthy new way to live. People ask me all the time how they can get into this new experience. They want to know all the pros and cons; they have so many questions about how to get started.
It's good to see so many Americans ready to move away from refined sugar, grains and foods that fill you up but damage your health. People are beginning to get more conscientious about the toxins they're putting in their bodies. If this sounds like you, then I've got great news.
My new book, Keto-Green 16 gives you all the details and instructions you need to get on the Keto-Green eating plan and be successful. In it, I share a few of  my success stories and give you the keys to winning. It all begins with good preparation.
You set up your kitchen with the right tools, then stock your fridge and pantry with the right foods and staples. It's simple and fun. Are you ready to begin? If so, in just a few short weeks, you could be healthier and have a smaller waistline.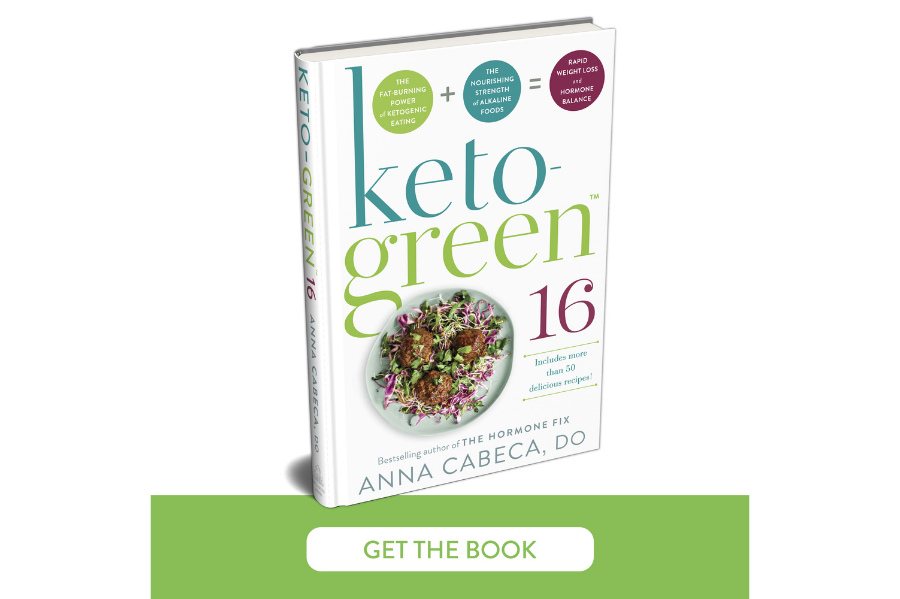 Written by Guest Blogger: Dr. Anna Cabeca, a triple board certified, Emory University trained physician and hormone expert.
The Keto-Green 16 Kitchen
Keto-Green 16 shows you how my 16-day rapid weight loss program works. I try to keep it simple with just 16 main food types.
Fish (salmon and white fish):

Adding fish to your weekly diet is a great idea and there are many studies that back that up. You can burn fat and avoid calories.

Beef, grass-fed (including bison):

This food is high in omega-3 fatty acids and known to help cut the risk of developing belly fat.

Chicken (white and dark meat):

These proteins will get your metabolism working efficiently while boosting weight-loss hormones like testosterone, growth hormones, and glucagon.

Dark leafy greens:

These greens are an amazing way to get your body into a healthy alkaline state. Try all of them including kale, collard greens, spinach, and chard.

Garlic and other alliums.

This group includes leeks, onions, scallions, chives and alliums. They're a

rich source of quercetin, a type of phytochemical that activates the enzymes essential for breaking down fats.

Nuts – Almonds, Brazil nuts, hazelnuts, and pili nuts:

Nuts are packed with fat, fiber, and protein. They contain everything you need to feel full and stay satisfied. They also stimulate the action of various weight-loss hormones.

Sprouts, raw.

Try these tasty sprouts that contain chemicals to support liver detoxification and help eliminate toxic, fat-forming, environmental estrogens from the body. Both actions clear the way for steady fat loss.

Other cruciferous veggies, cooked or raw.

These foods are known to support the body's natural detoxification system, helping remove the metabolic trash. Your body will be free to burn fat naturally.

Cabbage, cooked or raw.

This is a super-healthy Keto-Green food that's versatile and works to detoxify your body.

MCT oil or coconut oil:

These two fat-burning oils can support your metabolism in a wonderful and surprising way.

Olive oil:

This is a well-loved Keto-Green fat you could almost enjoy daily.  It has an impressive array of health perks, especially for women. For example, olive oil balances one of our major hormones, insulin. Olive oil can also help improve the shape of your body so you'll have less body fat and more toned curves.

Sauerkraut, pickled ginger, and kimchi.

Probiotics can help improve the health of your gut so you burn fat better and these foods are full of these healthy benefits.

Bone broth.

Great for alkalizing and supporting balanced hormones and overall health.

Aids with digestion, joint function, immunity, and virtually every other function in the body.

There's a recipe for it in my new book.

Pineapple, mango, and papaya.

All three contain natural enzymes that help your body digest proteins and carbohydrates.

Citrus – lemons and limes.

Citrus is something we should all eat more of. These are easy to add to any eating plan and they add so much flavor to foods. Plus, they're rich in polyphenols—active plant compounds with insulin-controlling, anti-inflammatory, anti-obesity, liver-detox benefits.

Avocadoes:

These are delicious and can be prepared so many ways. They're loaded with omega-9 fatty acids, known to activate fat-burning. Plus, they're very alkalinizing.
All of these ingredients have been combined in easy to prepare recipes in my book Keto-Green 16. Note that all of these recipes have been tested by me to ensure they are blood sugar stabilizing, hormone balancing, and to support your optimal health to get you the quickest results possible.
Check Out These Vegan Options
Some of you may be wondering if there are vegan options. The answer is yes. In my book, you'll discover an amazing Keto-Green 16 vegan plan. I will show you how to replace meat with things like garbanzo beans, white beans, tempeh, Black soybeans, and non-GMO tofu. I'll show you how to prepare a delicious Keto-Green alkalizing broth that you can substitute for the bone broth. You'll love these tasty recipes!
Now that your fridge and pantry are stocked with these delicious foods, you'll need a few specialized tools to work with. These are items you may already have in your kitchen. They're certainly gadgets you could use over and over. Once you have these tools on hand, it will be so easy to dish up healthy delicious meals for the whole family. You'll love the feeling of knowing that you're feeding your family right with wholesome Keto-Green meals.
Tools for Your New Keto-Green Kitchen
These items are all affordable and will make food prep much easier regardless of what eating plan you're on. When you have the right tools on hand and the right foods in the pantry, you'll see how easy it is to go Keto-Green.
Blender: I love smoothies for breakfast, as meal replacements, and in-between meals. Every kitchen should have a blender around. You can whip up any of the new smoothie recipes in my book.
Slow cooker or InstaPot: You may already have this in your kitchen. It has become essential for most of us. Quite a few of my Keto-Green recipes call for this. It works wonders for cooking poultry, bone broth, meats, fish, and other dishes. You'll love my slow-cooked Not Your Mama's Cabbage Soup recipe in the Keto Green 16 book.
Spiralizer: This is an amazing little tool that turns low-carb veggies into pasta-like noodles that are the perfect substitute for high-carb pasta. You'll love the delicious taste and the ease. There are lots of veggies you can spiralize including cucumbers, zucchini, broccoli, and squash. You'll love my vegan-friendly Zucchini Noodles with Walnut Romesco Sauce. Check out the recipe in the new book. A small handheld spiralizer will work perfect!
Optional Gadgets:
Food processor: This appliance is indispensable to me but not mandatory to have for success. It will do all your chopping, shredding, mixing, and puree tasks. Many of my Keto-Green 16 recipes use a food processor: Spicy Pumpkin Seed Dip, Riced Cauliflower, Cauliflower "Gnocchi" with Pesto and White Beans, Cardamom Cashew Fat Bombs, among several others. This is a time saver for bulk food prep.
Indoor or outdoor grill: Though this one isn't mandatory, it is a perfect way to broaden the flavors of any dish. And, it will shorten cooking times. My new book contains lots of delicious grill recipes like Mediterranean Burgers and Spiced Halibut with Crunchy Citrus Salad.
While these are tools for the Keto-Green Kitchen – having a great spice rack with your favorite spice blends makes everything tastes better.  
Ready to Move Forward?
Going Keto-Green ensures that your body will get the nutrition it needs while avoiding heavy carbs, sugars and toxins. You don't need all that stuff weighing you down. You've got an amazing life to live. And you'll enjoy it more when your health is at optimal levels. I hope I've inspired you to begin this journey toward becoming the best version of yourself.
Order your copy of Keto-Green 16 at any online or physical bookstore, and you get a lot of FREE gifts: A Keto-Green Quick Start Guide, an additional 3-day meal plan with recipes, Keto-Green Recipe Videos (watch recipes being made!), and more recipes to help you "feast" healthfully.  Just follow this link: drannacabeca.com
Try Keto-Green with these free recipes. 
Guest Blogger,
Dr. Anna Cabeca
Dr. Anna Cabeca, a triple board certified, Emory University trained physician and hormone expert was diagnosed with early menopause at age 38. Devastated, she set out on a personal wellness journey to reverse her menopause side effects, which resulted in her delivery of a healthy baby girl at the age of 41.  
After experiencing her own health successes, Dr. Cabeca began counseling others, ultimately changing the lives of thousands of women across the globe. Her new book "The Hormone Fix" and other empowering transformation programs have helped women of all ages become their best selves again. Her successful line of all-natural products features the alkaline superfoods drink Mighty Maca® PLUS and the rejuvenating vulvar cream Julva®
Recently, Dr. Cabeca was named "2018 Innovator of the Year" by Mindshare Collaborative, the premier community for health and wellness influencers and entrepreneurs. In 2017, the Age Management Medicine Group presented her the prestigious Alan P. Mintz Award for Clinical Excellence.
You can discover more about Dr. Cabeca at DrAnnaCabeca.com and connect with her on Facebook, Twitter and Instagram.