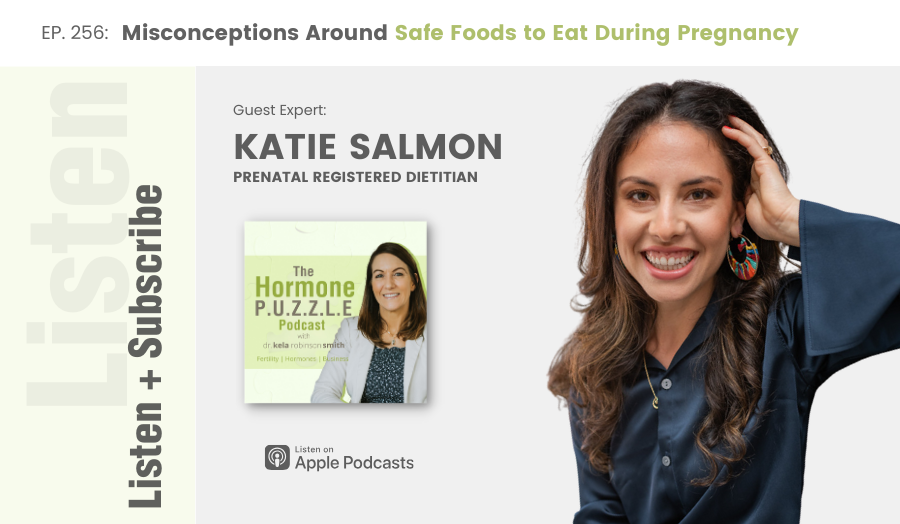 Featuring Guest Expert: Katie Salmon – a Prenatal Registered Dietitian and founder of The Pregnancy RD.
Listen to the Episode Here:
What if some of the foods you've been told to avoid during pregnancy aren't as risky as you thought?
In this podcast episode, Katie Salmon, a pregnancy expert and registered dietitian, discusses common misconceptions surrounding safe foods to eat during pregnancy, challenging conventional wisdom and offering valuable insights to ensure a healthy and enjoyable journey to motherhood.
Katie is a prenatal Registered Dietitian and absolutely loves providing pregnant people the confidence to fuel their body, nourish baby, while also managing common pregnancy symptoms.
Katie take a food-fist non-diet approach in her virtual 1-on-1 practice. Driven by a mission to covert the complicated science into easy to prep meals, Katie is best known for inspiring her clients to create well balanced (and never boring) pregnancy-friendly meals that are easy to maintain with a busy lifestyle.
Notable Quotes in the Episode: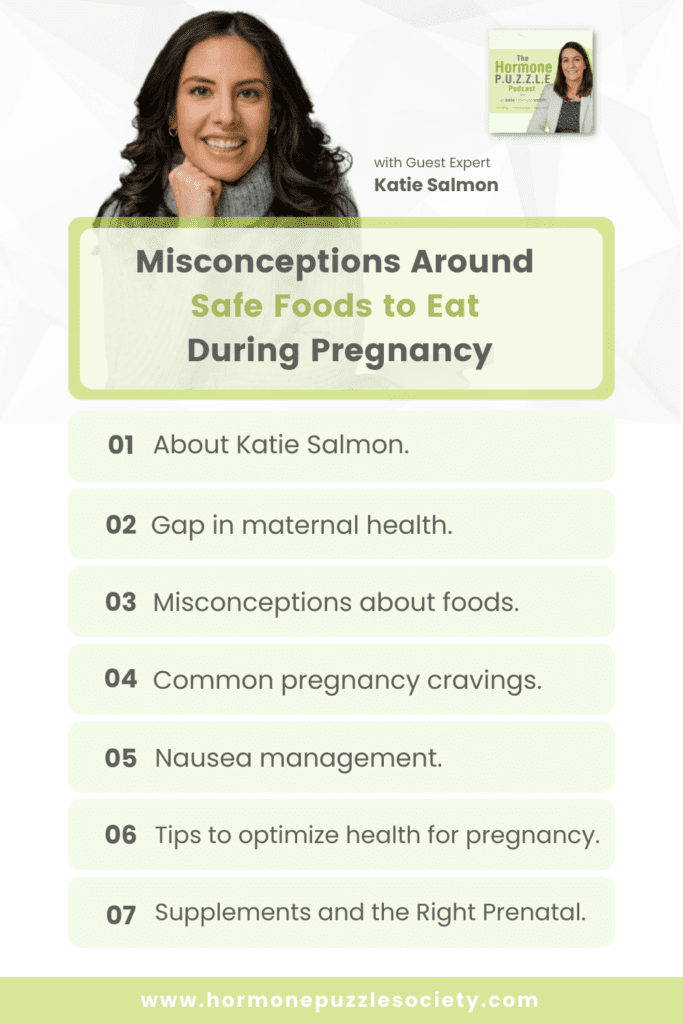 Tune in to Katie Salmon's interview where she talks about the common misunderstandings surrounding these food items:
Deli Meat and Cheese
Raw Fish and Sushi
Liver in Your Diet
Soft Cheeses
Fermented Foods
Fish and Mercury Levels
Don't forget to grab the FREE 5-Day Meal Plan HERE. Your guide to quick and easy meal planning & prep for every stage of pregnancy.
FREE DOWNLOAD: Pregnancy Meal Plan
Download the free Pregnancy meal plan now to learn:
What foods to eat for strong implantation.
What foods and activities to help fight nausea .
What foods with help you grow a super baby.
Delicious, healthy quick and easy meal ideas. Vegetarian and vegan recipes included.

#249: Nurturing Gut Health for Pregnancy with Dr. Kristina Telhami
#244: Top 10 Tips for a Healthy Happy Pregnancy with Dr. Kela Smith
#239: Prenatal Vitamins with Joni Davis
#223: Healthy Happy Pregnancy – Pregnancy Intro. Episode with Dr. Kela Smith