Written by Guest Blogger: Lauren Haring, a Fertility Nurse Specialist and founder of Embrace Fertility.
Fertility treatment requires as much of your mind as it does your body. If you are getting ready to start an IVF cycle, you may be feeling anxious, excited, overwhelmed and everything in between. Understandably so! For most patients, IVF involves completely unchartered territory, paved with a lot of unknowns and stress. Preparation is key to avoid unnecessary stress throughout IVF treatment. It's truly difficult to narrow down all the things I want you to know. But, here is my shot at it – from a fertility nurse, IVF Cycle Coach, and ally,
these are 10 things you should know before starting IVF.
1.Understand your treatment
One of the best methods to combat anxiety is with knowledge. Do you truly know why you're doing IVF? Are you aware of what is going to happen during each phase? Did your doctor discuss possible side effects and complications that could occur? What are your individual success rates? A detailed conversation about your diagnosis, how the treatment process works, and what your responsibilities are will provide clarity and confidence as you move through your IVF journey. This will boost your confidence right out of the IVF starting gate!
2. Don't compare yourself
Comparison is called the thief of joy and is a crucial part of your mental health to protect. Everyone's genetics, underlying fertility factors, and daily lifestyle choices are different. As difficult as it is not to compare yourself to others, each person's situation is truly unique to them. Lay the foundation for a better IVF experience by understanding the process as it relates to your specific situation.
3. Advocate for yourself
Modern medicine has changed over time. You don't have to just go with the flow and follow orders without hesitation. Learning to advocate for yourself by asking questions, voicing concerns, and seeking additional support is crucial. Talk with your fertility team to ensure all of your questions are answered, you are comfortable proceeding, and proper expectations are set. You are investing time, money, energy, your body, and more into this – you deserve to understand and be your own best fertility advocate. 
4. It's crucial to be flexible
Understand that IVF comes directly with a requirement to be flexible. While IVF cycles follow a basic timeline, there is a great amount of unpredictability involved. Each next step of the cycle hinges on how the previous one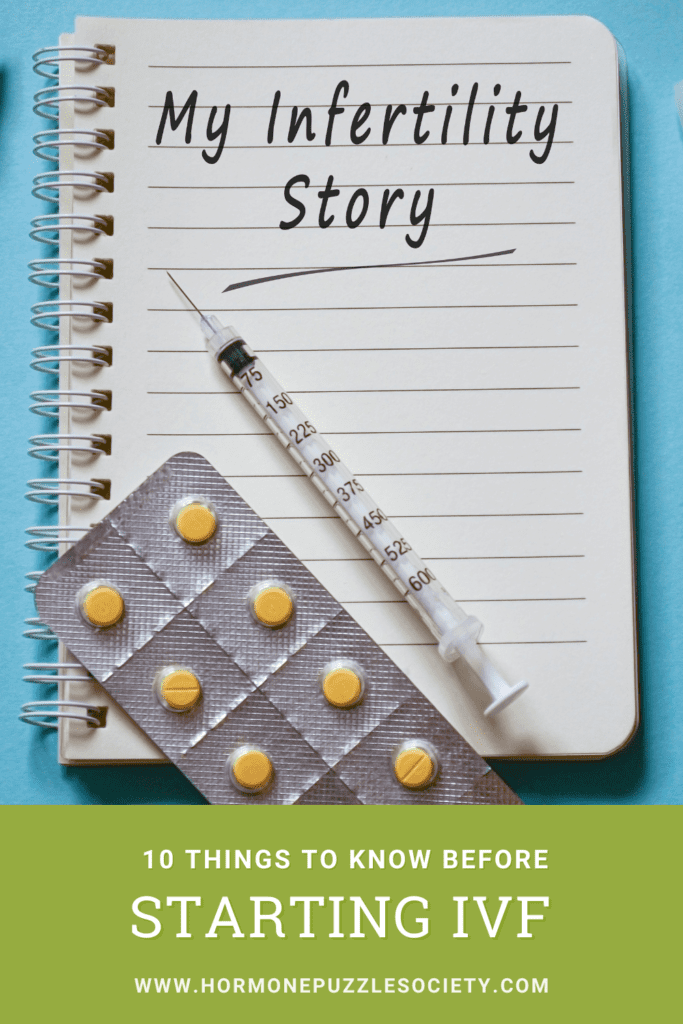 went. So, one minor change can have a ripple effect on your schedule… And on your emotions. You will thank yourself many times for getting into a flexible mindset before starting.
5. You CAN make it through the injections
Injections tend to be one of the most anxiety-causing parts of fertility treatment. While no one enjoys them, you will come out the other side of IVF far stronger than you ever wanted to be. It is important to know that the anxiety build-up to the shot is worse than the shot itself! And it is always easier after the first one is done.
6. It doesn't work every time
Managing expectations starts with your physician. IVF success rates continue to improve with medical advances, but there are still no guarantees. As hard as it is to hear, even when everything goes perfectly, IVF just doesn't work every time. It may require more than one round to be successful and unfortunately, not every IVF journey leads to a baby. There are options beyond IVF, too. ❤️
7. Boundaries are essential
It is easy for fertility treatments to become the primary focus of your life. They require a lot of your time and what feels like an endless supply of your effort. Don't be afraid to be selfish during this time and don't be afraid to say no! You don't even need to explain yourself, simply say it with kindness. Protect your time and mental wellbeing with a gentle, "I won't be able to make it this time, but I hope to see you soon!"
8. Choose your SUPPORT CIRCLE carefully
Be proactive about creating your IVF support system and identify who you trust to include on this incredibly personal and special journey. Knowing who you want to share this part of your life with when you're in the thick of it and need someone to lift you up, or just listen, is priceless. This is your private information to share and it can take time to decide the right people you want let in. But it is also important to consider that there can be some negative aspects to sharing. Unwanted inquiries, advice, and insensitive comments can arise and you may find yourself having to educate people about IVF when you don't want to. Remember, it is always your choice who you let in.
9. Enlist a professional
The care of your mental health is critical while going through IVF. It's so easy to lose yourself as you navigate all of the heavy stuff being thrown at you. You don't need to do this alone. While support comes in many forms, counseling with a reproductive mental health professional is a great option to help you work through your fears, feelings, and build resilience. This can be a valuable tool for both individuals and couples.
10. Breathe. 
Enough said, you can absolutely do this! IVF treatment can be an exciting, magical, and momentous time. Remember to be kind and patient with yourself along the way. Every IVF journey is personal and unique, just as your fertility story is. Focusing on these areas in advance will help you have a better IVF experience. 
Guest Blogger,
Lauren Haring

A fertility nurse since 2004, serving 16 years at a world-renowned clinic, Lauren Haring brings a medical background and front-line experience most coaches don't have. With almost two decades of experience on the front lines, Lauren saw the need for more comprehensive fertility support. Clinics are often at capacity performing essential services which led her to create Embrace Fertility in 2019, bridging the gap between clinical care and true integrative fertility support.
An invaluable ally, Lauren uses her extensive professional background to guide and educate you, help you advocate for yourself, and calm your fears each and every step of your IVF journey. She is here to discuss ALL of your IVF concerns and fertility goals in a safe, non-judgmental space – the ups, downs, and everything in between!
A member of ASRM, RESOLVE, and continuously bringing awareness and educating about reproductive options to the community.